Welcome to Blue Diamonds and Fan Tan Danes Photo Album. In this album you will find photos of current litters, past litters, and adults that have been sent to me by owners of my dogs. Watch for litter announcements on my websites Fan Tan Great Danes and Blue Diamond Great Dane. As of 2009, we are not expecting for at least another year. Our dogs are solid blue.
Link back to Blue Diamond Great Dane Website.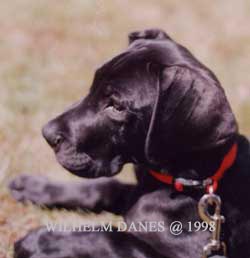 Inspector Von Maxwell Browns Grandson
Seven. Owned and bred by Wilhelm Danes in the Bay Area. I am trying to get these photographs in order of birthdates. This one is from my Fan Tan Great Dane website. Just updated Brutus medical information on the Fantan Dane website. Hip X-rays, vet noted no evidence of Hip Dysplasia, DNA Profile and Thyroid Normal for Brutus in 2002 when he was a two year old. Brutus is also DNA'd with AKC. I have his number here, thank you Sandy.