Welcome to Blue Diamonds and Fan Tan Danes Photo Album. In this album you will find photos of current litters, past litters, and adults that have been sent to me by owners of my dogs. Watch for litter announcements on my websites Fan Tan Great Danes and Blue Diamond Great Dane. As of 2009, we are not expecting for at least another year. Our dogs are solid blue.
Link back to Blue Diamond Great Dane Website.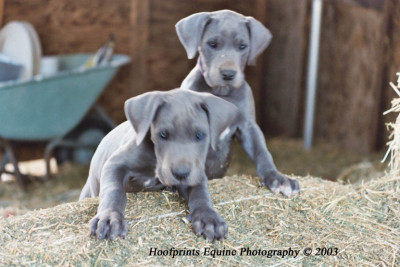 Barn Buddies©
Two Pups from 2003 litter TJ X Belle.